One of the largest movable flood barriers in the world. The Environment Agency runs and maintains the Thames Barrier as well as London's other flood defences.

Proventure were asked to specify a chemical anchor for M24 post installed rebar connections involved in the refurbishment of the ten barriers concrete deck. PRO V500 was selected as it is an ultimate performance epoxy mortar for rebar connections and heavy anchoring, with European Technical Approval and will work in dry, wet, water filled and submerged concrete.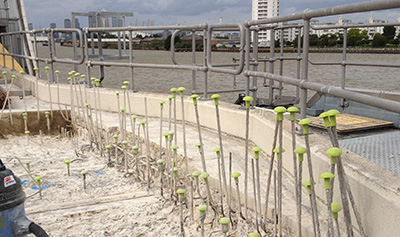 The second phase of the contract was the removal and replacement of 100no timber fenders that support the steel barriers when in use. Because of the thickness of the timber fenders and the requirement for a deep anchor embedment, A4-316 stainless M12x250mm steel through bolts were required. With this anchor not available in the UK, we sourced it from our supply partners in Germany.
During the contract period, we also supplied bespoke diamond core bits, 4 point cutter SDS drill bits, insulation fixings and shot fired tools and nails.