A Balfour Beatty Costain joint venture were awarded a £208 million package in 2016 to upgrade a section of motorway between junction 8 M60 and junction 20 M62. The upgrade involved using the hard shoulder as a running lane and using variable speed limits to control the flow of traffic.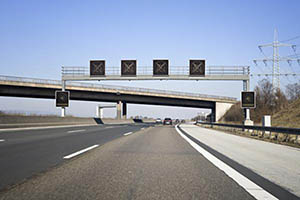 Proventure were contacted to offer an approved alternative to Hilti HIT-RE 500 V3 injection resin and V anchor rods, specified to secure flange mounted lighting column brackets to the concrete bridge parapets
PRO V500 injection resin is a cost effective alternative to Hilti HIT-RE 500 V3, for high loads and rebar connections, with European Technical Approval. The design team at Balfour Beatty evaluated PRO V500 with Proventure V anchor rods under the Materials Approval Register for Highways England and the technical performance data and relevant European approvals.
They subsequently approved PRO V500 injection resin with Proventure M24x480mm A4-316 V anchor rods. Lighting column brackets have now been installed on 56 overhead gantries. 40% of the anchors were tested to a tension load of 30kN. All anchors tested held at 30kN. 6no anchors were tested to failure and held at 145kN, the limit of the test meter used.
Balfour Beatty Costain saved 35% by using PRO V500 resin and V anchor rods, approximately £5,500.